Category: Housing News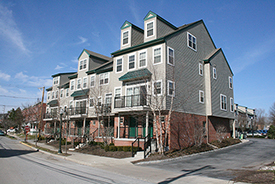 Below you'll find news and updates about Chester County's Housing Planning.
Putting a spotlight on policies for affordably-priced homes, new residential designs, and housing tools for municipalities, the County's first annual housing forum, Creating A+ Homes, was held last week. Attended by approximately 70 representatives from municipalities, developers, realtors, consulting firms, community organizations, and others, the event was headlined by keynote speakers Ray D'Agostino, CEO of Lancaster Housing Opportunity Partnership and Brian Phillips, AIA, founding Principal of ISA. Ray D'Agostino shared stories of his experience in municipal government and with the Lancaster Housing Opportunity Partnership regarding creating homes that are affordable for a range of income levels, while Brian Phillips discussed the design and construction of different housing types, particularly smaller footprint homes.