Category: Preservation News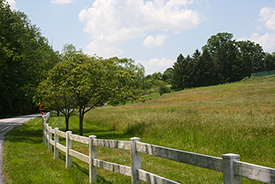 Below you'll find news and updates about Chester County's Preservation Planning.
The 25th summer of Chester County's Town Tours and Village Walks program will begin on June 13 at the historic Church of the Holy Trinity in West Chester. The theme of this year's series is exploring the county's villages "Then and Now." There will be 10 more tours this summer – every Thursday night. Back by popular demand, two fall supper lectures have been added during October and December. The free summer strolls will take place in historic neighborhoods, hamlets, villages, and sites throughout Chester County. These events are sponsored by the Chester County Commissioners through the Chester County Planning Commission and its partners, including Westtown Township, the Chester County Conference and Visitors Bureau, the Chester County Historic Preservation Network, the Chester County Historical Society, and other local participating municipalities. View more information about the tours or contact Chester County Heritage Preservation Coordinator Karen Marshall at kmarshall@chesco.org for a brochure.