Category: Preservation News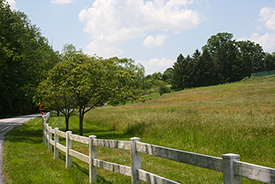 Below you'll find news and updates about Chester County's Preservation Planning.
While surrounded by the rolling fields and wildlife at the ChesLen Preserve, Chester County officials – along with representatives from municipalities, land conservation organizations, and economic development agencies – celebrated the 30th anniversary of open space preservation and the economic benefits of these efforts during an Open Space Summit May 2.
As part of the summit, the Chester County Commissioners announced results of a study, Return on Environment: The Economic Value of Protected Open Space in Chester County, and unveiled a video about the report. The video highlighted the valuable economic, environmental, and public health benefits that open space preservation has provided to Chester County for the past three decades.