The New Year is a great time to reflect on the accomplishments of the past year and to express gratitude for those who have helped along the way. We at the Chester County Planning Commission made a lot of progress on our Chester Valley Trail West study in 2017. The project kicked off in July, and our efforts thus far have involved getting input from a lot of people. We are grateful not only for the interest that has been shown in this project, but also for the generosity with which people have shared their time to provide us with ideas and feedback about the trail. 
Our project steering committee consists of over 30 township officials, representatives from other county and state agencies, as well as nonprofit groups active in western Chester County who have been active participants in the project.
At least 50 members of the public attended our first public meeting in October and provided great feedback about where the trail should or should not go.
Over 2,000 people have participated in our public survey.
In addition to funding this study in part, the Pennsylvania Department of Conservation and Natural Resources (DCNR) has been very responsive to questions and has provided our project team with valuable information and connections.
Our Community Conservation Partnership Program grant from DCNR began in July, and we immediately began researching, mapping existing conditions, and getting familiar with our large project study area. Over the past few months we have taken several excursions to the project study area to identify what we think would be a feasible alignment for the 14 miles of trail needed to connect the future Enola Low Grade Trail to the proposed Chester Valley Trail Extension to Downingtown. We've poured over maps, aerial imagery, high-definition pictometry, and other planning documents to understand the opportunities and constraints associated with each route we've studied. After studying many options and assessing the feedback we've been given, we're beginning to develop an idea of which alignment might work best.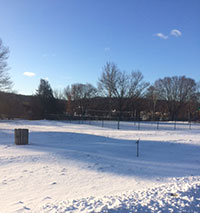 What's next? We will review this alignment, along with several alternatives, with our steering committee at the end of January. Using their feedback, we'll refine our alternatives and present revised alignment options at a public meeting in late winter to get even more input. A date has not yet been set for the public meeting, but if you're reading this, we want you there! Provide us with your contact info using the box at the bottom of our project webpage and we'll let you know when the meeting is scheduled. Need more incentive to come to the meeting? We'll be unveiling the results of our public survey, which has received over 2,000 responses to date!
Warmest wishes from all of us at the Planning Commission for a happy and healthy New Year. Don't forget — the existing 14 miles of the Chester Valley Trail are maintained throughout the winter, leaving no excuses not to stick to your New Year's resolution to get healthy. So bundle up and hit the trail!
[Photo caption: Lloyd Park, a favorite destination in Caln, could be a stop along the Chester Valley Trail, as well as many other parks and points of interest in western Chester County.]