Chester County Planning Commission Assistant Director David Ward has always appreciated the uniqueness of communities. That passion started when he was young.
That's why it's fitting that he has worked for the Planning Commission — an organization that assists communities with future growth and preservation — for four decades. He celebrated his 40th anniversary with the agency on April 4. 
"Around the state and region, David is not only known as a great planner and leader of the profession, he's also known as Mr. Chester County," said Planning Commission Executive Director Brian O'Leary. "When people think of the Chester County Planning Commission, they think of David and his leadership on a wide range of planning issues during his 40 years at the agency."
David grew up in a Pennsylvania Railroad family that lived all over the East Coast. He moved 13 times before junior high school. He said he liked how each town and state had different cultures, dialects, and foods.
"I became fascinated with how communities can be unique," he said.
David pursued a career in planning for two reasons. First, he was able to take an elective course in urban planning at Conestoga High School with the encouragement of one of his teachers. He also enjoyed Boy Scouts when he was younger and rose to the rank of Eagle Scout. He believes that his involvement with scouting helped him develop civic pride and a desire to give back to the community.
After high school, he earned a bachelor's degree in environmental resource management at Penn State University. He also earned a master's degree in public administration and urban and regional planning at West Chester University. He worked in the private sector for a few years before working for the county.
So how did he eventually make his way to the Planning Commission? 

David attended a public meeting in West Chester decades ago and then-state Rep. Samuel Morris approached him and said, "You seem to have an interest in the future of Chester County. You should become a planner." So David decided to check it out and landed a job as a planner.
When David started to work for the county, he didn't have plans to stay long.
"I had the sense that government wasn't going to be very effective with making change," he said. "I was concerned about bureaucracy."
David later changed his views after he noticed the dedication of the staff. He decided he wanted to make this his career rather than another job. "But I didn't think it would be 40 years," he added jokingly.
A lot has changed in the office since David started his career with the Planning Commission in 1977. He recalled how the staff consisted of about 16 people; it has doubled to over 30 people. There weren't any computers back then and the employees shared phones. In addition, mapping was done by hand, David said.
George Fasic, who served as the Planning Commission's executive director for about 20 years, hired David in 1977.
David "was a significant contributor to my management team," George said. "He was a person that was a 'check and balance' on us. He seemed to be able to be a watchdog. He was very good at that. He kept the management committee on track."
George also said David acted as an emissary to the county's municipalities. "He got out there and knew who they were," George said. "That was a significant contribution."
After a few years as an entry-level planner, David moved over to work in the Planning Services Division and he later became a section chief. He has been assistant director of the entire department since 2006. "I've not had one single day that was boring or repetitive," he said.
David has many memories of projects at the Planning Commission. In particular, he recalled the adoption of Landscapes, the county's initial comprehensive policy plan, in 1996. He said it was memorable because "it celebrated all the things that planning is about." He also finds it rewarding when he sees residents who aren't planners engage with projects in their communities.
On the day of his 40th anniversary, the Planning Commission staff surprised him with an event in the office to recognize him for his service. David was appreciative of the celebration even though he thought he'd get through the day without anyone recognizing him; he's not one to seek the spotlight. He also felt reflective that day about all the changes in the department and countywide. "I'd like to think I had something to do with a small portion of that," he said.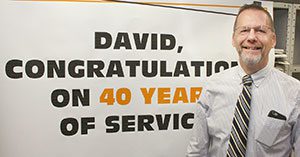 David has lived in Chester County for nearly 50 years. He currently resides in East Bradford with his wife Beth. They have two grown children, Scott and Sara, and one granddaughter.
In addition to working at the Planning Commission, David teaches a Pennsylvania Municipal Planning Education Institute master planner course. In his spare time, he enjoys traveling around the world. This year's theme is hiking.
David has no plans to retire anytime soon because he is still enjoying his job—"but I promise it won't be another 40 years," he said with a smile.
And he hopes that other planners have the chance to enjoy their careers.
"My wish is that anyone who becomes a professional planner can have as much enjoyment and passion as I do," he said.